Lowongan Borwita Citra Prima
Position Title: Borwita Logistic Academy
Job Descriptions:
It is one of the programs offered by Borwita Group, especially for new graduates who have enthusiasm and passion to build a career in the logistics industry. In this program, specifically you will be directed to learn all operational activities related to warehouse and delivery, you will be educated to understand all operational activities to the strategic.
Requirements:
1. Max. 23 years old
2. Candidate must possess at least a bachelor's degree with GPA of 3.00 (Scale 4.00), any field
3. Fresh graduate or having less than 1-year work experience
4. High energy with analytical skill, excellent communication skill, confident to be agent of change.
5. Willing to be located around Indonesia
This Job Vacancy can be reach at career.borwita.co.id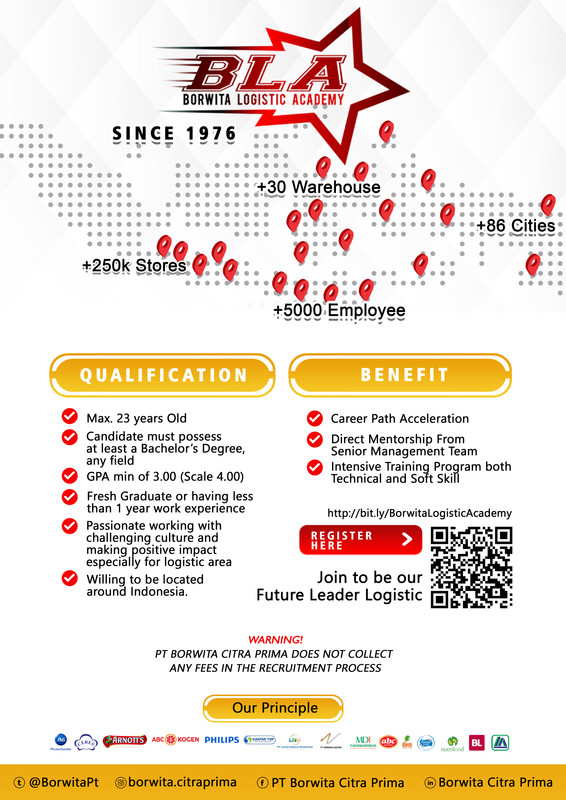 Deadline kirim lamaran : Tidak memiliki deadline

---
Profile Perusahaan : Borwita Citra Prima, PT, Surabaya
BORWITA GROUP adalah perusahaan distributor independen yang terfokus di Indonesia bagian timur. Didirikan pada tahun 1976 oleh Bapak Hady Karyono, Borwita terlibat dalam bisnis distribusi farmasi yang berbasis di Surabaya. Bisnis perusahaan berkembang pesat dan pada tahun 1988, Borwita memulai distribusi produk konsumtif.

Diterbitkan 1 tahun yang lalu